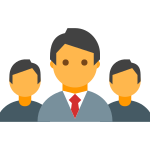 Management Consulting & Business Expansion Services.
We conduct Management interviews, we understand business challenges and review operational reports, information and existing management controls. The advisory solutions we designed is based on client business risk, opportunities for industrial challenges.

Management Consulting
Advisory
We act as a business consultants or organisational advisors, we focus on all sorts of organisational concerns from strategy to a variety of elements within management. We conduct business review and recommend how to improve the performance and achieve strategy.
Audit & Risk Management
Assurance
True integrity has always been the cornerstone of any successful company.We conduct process reviews to provide assurance to managment on Process, People and Systems. We use risk based approach considering client environment, operational information and financial implications.

Operational Advisory
Advisory
We help clients to improve Operations performance.Activities includes from advisory services to hands-on implementation support, for functions process (Sales, Marketing, Production,Finance, HR, Supply Chain,
ICT, etc.).